I Ankita Priyam, Digital business coach & Co-Founder of OGEN Infosystem am honored to be invited by virtual European e-Commerce and Digital Marketing Week – part of World Digital Weeks 2021 by Digital4Europe. The international conference held during mid of May 2021 was a great experience to share the digital stage with various other speakers from different parts of the world including Bulgaria, Portugal, Belgium, Indonesia, and many more.
As a speaker and representing India I spoke about how Digital World is just not about big brand games but even small and medium business owners can easily take advantage of digital platforms and scale their business post-COVID. There are a number of small companies or offline stores that had to shut down their business without knowing that switching their business online would have saved them, they can even make a comeback in their business with change in strategies focusing on digital marketing strategies.
In a recent report by datareportal.com, it was declared that by April 2021 there are 4.72Bn online users around the world, which is more than 60% of the total population and the average daily time spent by each user is around 7 hours. When it comes to the digital world, we can count internet users as online audiences as Digital Consumers for any business.
If we look into small businesses deeply we can segregate them into selling products or service providers and their main aim to sell product or service so it's important to analyze the commercial online activities. In the recent research, it was found that in 2021 more than 80% of online users have searched a product or service online they were looking for and more than 90% visited online stores while around 45% visited auction sites. It was also seen that 79% of users purchased a product online and 40% inquired about services online.
Going more deep into the online market, the below image shows Global Ecommerce spend by categories which can help you select the market area if you are planning to start a new business online.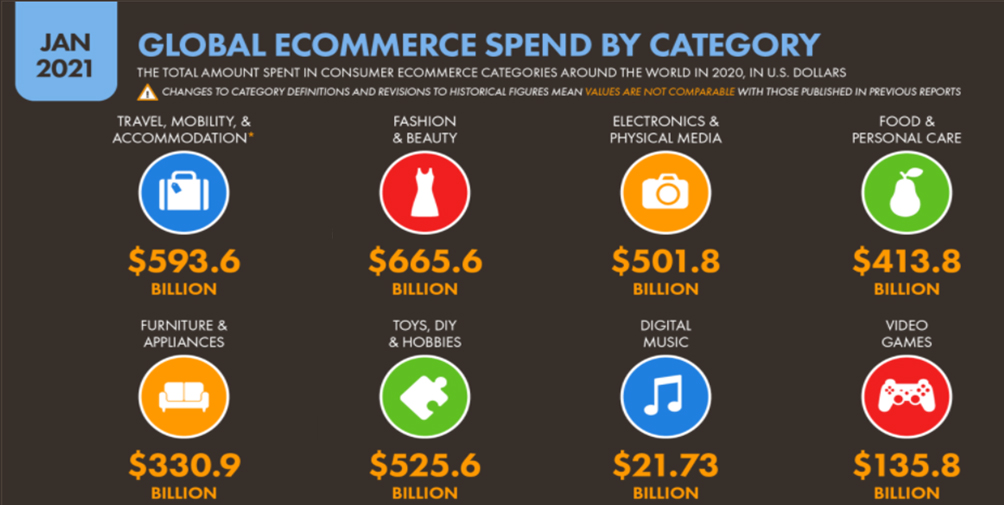 The above data clearly shows why and how much digital platforms can addon to your business growth, people must understand that if we as a user are buying online and reading reviews online before hiring any service providers then even other people are doing same and we can be on the other side of the story and those people can be our customers too. But many have raised this question that what to do after launching our business online as now the digital market is also very competitive today. My answer to them is – "Just look around you, and select the digital strategy accordingly".
As a business owner, you need to analyze what is your target audience and then look at what type of digital activities those target users are doing-
If you find most people are spending time on social media and getting influenced by social activities, you can start influencing your target audience by posting informative and insightful posts online, keeping your products & services in front of them. You can also hire an online influencer who has thousands or lakhs of followers, when they will promote your brand you can reach a wider audience which may land up being your customer. Giving example, if you have some haircare or skincare products you can educate people about how the ingredients in it benefit your hair & skin with various creative posts and reach audiences with the help of Facebook groups. Also, you can find many online influencers who work with barter system or a minimal fee and promote your brand to their followers. Yes! now you must have remembered such videos and posts for different brands and you should know till now that this is a part of digital marketing strategy.
If you find your target audience watching videos on youtube, you can start your own channel start uploading effective and informative videos so users can connect with you and your brand. You can also have add-on earnings if you monetize your videos and if you become a youtuber with millions of subscribers and views even a few big brands can reach out to you to advertise their product or services and pay you in lakhs. Or if you have a good marketing budget, you can also hire YouTubers for your brand promotion. Giving example, An education counselor can start uploading videos on giving information to students regarding which subjects leads to what higher studies options and careers and sell your counseling service. You can also hire YouTubers to create a short film with good story content roaming around your service. There are many such channels like Dice Media, SIT, TVF which do make such web series and short films and they trend a lot on youtube. Yes! You have watched such videos but never thought it worked like that.. know you know and can use this marketing strategy if your business requires the same.
If you are a coach or teacher and your institute is closed for months, start teaching online. Your target users are students and they as well as their parents are looking for online courses to upskill them. You can signup for online teaching platforms like udemy, Coursera, etc or you can start your own learning platform as well.
There are no limitations to digital marketing strategy and all you can find by observing what people around you, your friends, family, kids are doing online and create your own strategy. Your aim should always be to be visible online by any media because "Jo dikhta hai.. wahi bikta hai" means what is visible, that only sells. If you are unable, you can simply hire a professional digital marketing agency which can help you in all kinds of digital marketing strategy as well as activities.
For entering into the digital world you need to have your business website design by a professional, have a good social media presence, List yourself in all available local business listings sites, focus on getting online reviews, influence the audience organically or by paid advertisement. In the digital world, your marketing cost is lesser than offline ads, you get better reports & insights into your campaign which helps in better decision making and You can easily exm=pand your business.